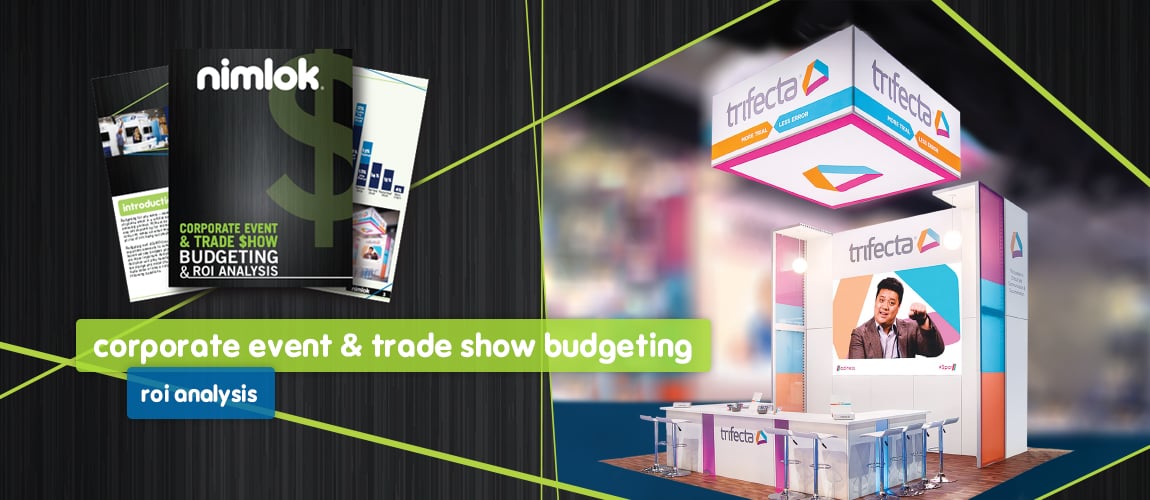 Nothing can replace the benefits of face-to-face marketing. Nimlok's new e-book, Corporate Event & Trade Show Budgeting and ROI Analysis, is a guide that will help you make the most of your trade show or event by explaining how to set goals, determine budget and analyze your return on investment.
setting Goals
What are you trying to achieve as a result of exhibiting in the trade show or hosting the corporate event? Following the SMART Method for goal planning brings trackability and structure to your goals and objectives. Following this method will help you create effective, actionable and attainable goals for your trade shows or corporate events. Learn how to set trade show goals and corporate event goals.
trade show and corporate event budgeting
Setting and sticking to a budget is important for both trade show planning and corporate event planning. Understanding the budget breakdown is essential for success. Download the e-book to learn the specific percentage breakdowns to allocate for each portion of your budget. Learn about trade show budgeting and corporate event budgeting.
measuring success: understanding and analyzing your roi/roo
Exhibiting at trade shows and hosting corporate events is a healthy way to grow existing business as well as generate new business. Taking the cost of exhibiting or hosting an event into consideration is important to measure your return on investment (ROI) and/or your return on objective (ROO). You can't measure success without understanding and analyzing ROI/ROO. Learn how to analyze trade show ROI and corporate event ROI.
Eliminate the guesswork and maximize the value of each and every event. Download the e-book today!